All permanent teachers at the Iyengar Yoga centre of Auckland are Certified
or undergoing training towards certification.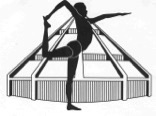 The use of this mark by Certified Iyengar Yoga teachers demonstrates the teacher's authenticity and commitment to the Iyengar system of yoga.
Principal and Director at the Iyengar Yoga Centre, Auckland             
Monica Haar,  Advanced Junior 2 Certificate.
Monica was born in Sweden, and when she was still a child , she was introduced to Yoga by her Russian grandmother.
In the early 80s she started following the teaching of Mr BKS Iyengar, "Guru-Ji", and has been teaching according to his method since 1987. She became a  Certified Iyengar Yoga Teacher 1993 and she is now the highest certified Iyengar Yoga teacher in NZ and in Scandinavia.
Monica has made annual trips to India since the early 90s to study with the Iyengar family attending both General classes as well as Intensive courses. She is an Assessor and Moderator for Junior Intermediate and Senior Intermediate Assessments both in NZ and Scandinavia. She has been an active member of the BKS Iyengar Yoga Association of NZ since it began in 1993/94 and in Sweden since 2008. Monica now has her focus on Teacher development both in NZ and northern Europe.
'Yoga has always been in my life and will continue to be in my life till the end.'
My first introduction to yoga was at the age of 15. I saw a small booklet about it at the local 5 & dime store. I practiced off and on until 1992 when I discovered Iyengar Yoga. This has become my passion.
I am a certified Junior Intermediate Level III teacher. I enjoy teaching and sharing the knowledge of yoga. My  special interest lies in learning more  and using that knowledge of Therapy Yoga because many of my students require special attention relating to different physical shortcomings. Yoga is a way of life for me and will be with me always.

I have had a regular yoga practice since 1995 and strive for the depth - physical, emotional and spiritual - that the Iyengar method can bring to a practice. I came to yoga later in life and its discovery has given me a renewed sense of direction and purpose.
I am a certified Junior Intermediate Level III teacher.
The study of the Iyengar method of teaching continues to enthrall me and I love the opportunity to share it with fellow students of yoga. Mr Iyengar expresses it better than I can in his book''Yoga-the Path to Holistic Health''.
'The practise of yoga requires discipline and intense concentration, but the fruits of the journey are truth and tranquillity.'
I have studied globally with Senior Iyengar teachers, including studies with Geeta and Prashant Iyengar at the RMIYI in Pune, India on four occasions.
As well as teaching Iyengar Yoga I am currently working as a Registered Nurse and I study Biodynamic Cranio Sacral Therapy.  
My yoga practice has offered me strength, agility and resilience on all levels, physical, mental and emotional.  
Through practicing and teaching yoga I am drawn into the present moment, into my body and into a place of acceptance and gratitude, inspired by life.
In 2003 I became a Certified Introductory Iyengar Yoga teacher.
I now hold a Junior Intermediate level 2 Cert.
Iyengar yoga - with its degree of attention to the practices of asana, or postural yoga, and to pranayama, the breathing exercises - brings great health benefits. I began a regular Iyengar yoga practice in 1995, and have always wanted to share the benefits with others. Over the years, I've studied to advance my understanding of yoga, anatomy and physiology. I began teaching classes at the Iyengar Yoga Centre of Auckland in 2011 and since then I have attained two levels of Iyengar teaching certifications. I now hold a Junior Intermediate Level 1 Certificate. 
I have practiced Iyengar Yoga for 20 years and I am a Certified Introductory Iyengar Yoga teacher. I was initially drawn to Iyengar Yoga because it is disciplined with a strong focus on proper alignment in the asanas. And the use of props means that anyone - no matter what age, shape or flexibility can practise and enjoy the benefits. I wanted to teach in order to learn more and be able to share the experience that I have had. I feel lucky to have had Iyengar Yoga in my life. It is healthy for your body- giving strength, balance and flexibility, and it is calming in a busy life.
Relieve teachers at IYC are;
Julie Sargisson is our permanent releive teacher. She is a Cert. Introductory teacher.
Rahle Dusheiko
Certified Junior Intermediate 1 teacher and new to IYC. She will teach the Sunday class as Vicki has taken off for new adventures :-)