All permanent teachers at the Iyengar Yoga centre of Auckland are Certified
or undergoing training towards certification.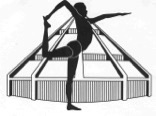 The use of this mark by Certified Iyengar Yoga teachers demonstrates the teacher's authenticity and commitment to the Iyengar system of yoga.
Principal and Director at the Iyengar Yoga Centre, Auckland             
Monica Haar,  Cert. Level 4
Monica was born in Sweden, and when she was still a child , she was introduced to Yoga by her Russian grandmother.
In the early 80s she started following the teaching of Mr BKS Iyengar, "Guru-Ji", and has been teaching according to his method since 1987. She became a  Certified Iyengar Yoga Teacher 1993 and she is now the highest certified Iyengar Yoga teacher in NZ and in Scandinavia.
Monica has made annual trips to India since the early 90s to study with the Iyengar family attending both General classes as well as Intensive courses. She is an Assessor and Moderator in Assessments both in NZ and Scandinavia. She has been an active member of the BKS Iyengar Yoga Association of NZ since it began in 1993/94 and in Sweden since 2008. Monica now has her focus on Teacher development both in NZ and northern Europe.
'Yoga has always been in my life and will continue to be in my life till the end.'
Fran Campbell, Cert. Level 3
My first introduction to yoga was at the age of 15. I saw a small booklet about it at the local 5 & dime store. I practiced off and on until 1992 when I discovered Iyengar Yoga. This has become my passion.
I enjoy teaching and sharing the knowledge of yoga. My  special interest lies in learning more  and using that knowledge of Therapy Yoga because many of my students require special attention relating to different physical shortcomings. Yoga is a way of life for me and will be with me always.
Hayley Roberts, Cert.Level 1
I have practiced Iyengar Yoga for 20 years. I was initially drawn to Iyengar Yoga because it is disciplined with a strong focus on proper alignment in the asanas. And the use of props means that anyone - no matter what age, shape or flexibility can practise and enjoy the benefits. I wanted to teach in order to learn more and be able to share the experience that I have had. I trained with Monica Haar at IYC and gained my Certification 2018. I feel lucky to have had Iyengar Yoga in my life. It is healthy for your body- giving strength, balance and flexibility, and it is calming in a busy life.
Megan Adams, Cert. Level 1
Nicole Keddie, Cert. Level 1

I started my yoga journey in 1999, and straight away, the practice and study of the poses appealed to my interest in anatomy, breath and movement. In 2015, I completed the level 2 certification (previously Junior Intermediate Level 1). I continue to grow in my practice and I am deeply committed to yoga on and off the mat. Sharing the path of yoga to help students discover the transformative effects of this practice, is something I am passinate about. I try to guide my students to find a deeper connection with themselves, to find more ease in their bodies and discover an improved sense of wellbeing, wherever they are in life - younger, older, flexible or less bendy.
"Yoga is more than just a practice to me, it's a way of life, a way of being."
Rahle Dusheiko, Cert.Level 2
Marshar Kaye, Cert. Level 2
Iyengar yoga - with its degree of attention to the practices of asana, or postural yoga, and to pranayama, the breathing exercises - brings great health benefits. I began a regular Iyengar yoga practice in 1995, and have always wanted to share the benefits with others. Over the years, I've studied to advance my understanding of yoga, anatomy and physiology. I began teaching classes at the Iyengar Yoga Centre of Auckland in 2011 and since then I have attained two levels of Iyengar teaching certifications.
At the moment I do not have a permanent class at IYC, but I substitute often for teachers that are away. So you will see me there almost every week.
I was first introduced to Iyengar Yoga when I was training in contemporary dance at the NZ School of Dance 1995. I found Iyengar Yoga to complement my dance work as it gave balance and restored my body from the physically demanding practice. This evemtually, after many years of Yoga practice, led me to become a Certified Iyengar Yoga Teacher. I trained under Senior Teacher Fran Campbell and passed my Certification Level 1 2018.
''To me Yoga is a creative challenge both through the practice and through teaching. I am very thank ful to have Yoga in my life as it continues to support me physically and mentally trough life and work every day.''
I have been practicing Yoga since my early 20s. Iyengar Yoga was the first class I tried and fell in love with the practice. Over the years I have tried other methods of Yoga but alway come back to Iyengar Yoga.
In 2017 I completed a 500-hour teacher training with Sharon and Mike Byron-McKay at the NZ school of Yoga. I then went on to further my training with Senior Teachers Fran Campbell and Monica Haar at the Iyengar Yoga Centre of Auckland. 2018 I passed the Iyengar Yoga Certification Level 1. To further myself I now attend Teacher Development at IYC.
'' The therapeutic benefits that Yoga brings, is what inspires me and influences my approach to teaching.''
Philippa Payne (Pip),
Pip is a Certified Level 2 teacher who has been teaching for many years on the Northshore. She has now joined our team and will start to teach permanently at IYC from the end of May. Pip attends the Teacher Devolopment regulary with Moni at IYC where she studies the Level 3 Syllabus. She also attends many workshops and conventions every year with different senior teachers from NZ and overseas.
We look forwards to have her on our team.